We sat down with Forest V Kapo last week to ask some of the critical questions informing her residency.
The project emerged from a collection of experiences and conversations Forest shared with friends, family members and strangers about their daily lives off the back of the pandemic (which Forest thought did a great job at rapidly highlighting which industries needed more equity, resources and support). These experiences and conversations have woven the fabric of Forest's The Mothering Project enquiry.  
"I began to wonder – how and where is it that we begin to learn these types of skills and how do these (care) skills manifest in ourselves as individuals? I realised that the word mother if unhooked briefly from the biological symbolism we in the western world have deeply inherited, then the word mother could offer potential to re-parent ourselves."
In partnership with FRAME: a biennial of dance, our residency offers Forest and collaborators the essential ingredients needed to create new work; time, resources, constructive critique and support, and a safe space in which to take risk. Our partner -Bendigo Venues & Events have provided time and resources in the Engine Room Dance Studio – a light filled space in which to explore and experiment, artistically, intellectually and performatively. 
The three collaborating artists – Forest V Kapo, Alison Shirley and Phoebe Robinson are based on Djaara Country in Central Victoria and all have experience in visual disciplines including: design, photography and film, and backgrounds in dance, movement and performance. With these combined skills, Forest feels the work is taking an intriguing first stage form involving filmed elements that are already taking shape.
Forest said: "The shape of the work itself, for me, is unexpected… I don't often have a strong sense of what [new works] will look like but I do usually have a sense of the how. This process though is a 1000 piece jigsaw puzzle, so… I don't yet have the how. The filming work feels rich but it isn't familiar, yet there's a strong sense that it's an important process and part of the progress required. The edited footage captured thus far is intriguing – I like intrigue as an artist, and as a viewer of art – intrigue keeps me going back to view or read a piece of artwork. The residency will help with uncovering more pieces of the puzzle."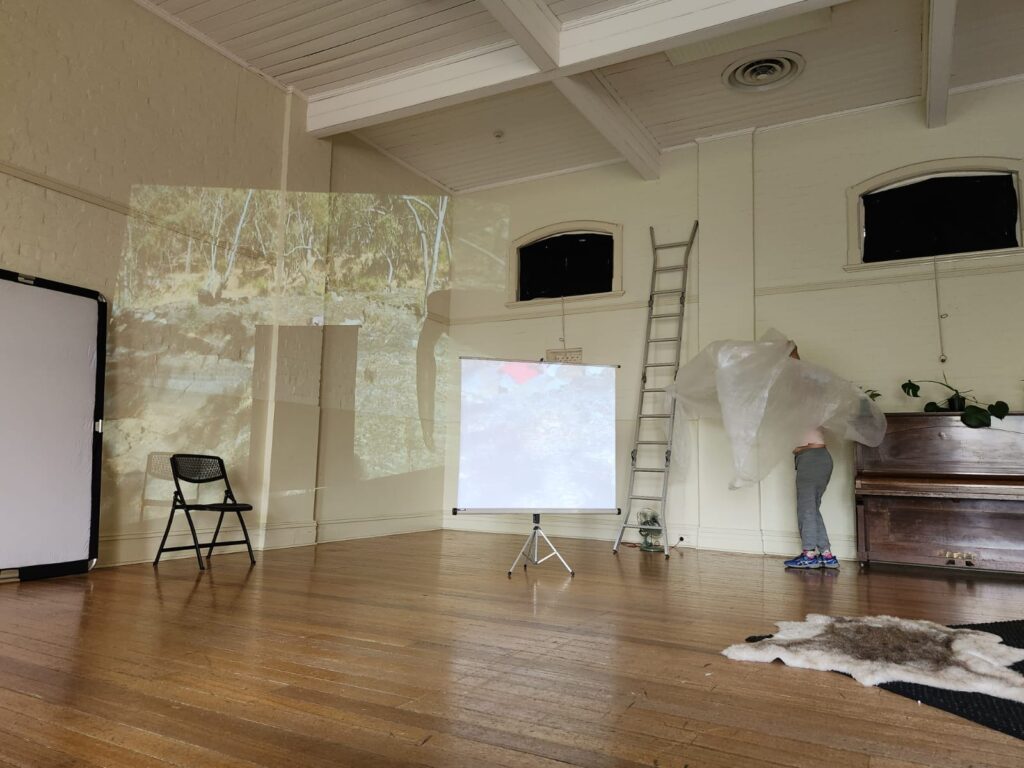 When asked about the emerging form that is coming out of the residency Forest commented:
"The work is starting to get a form. I am finding myself in a strange relationship of getting out of the way. It is like stepping into a dark room and fumbling for the light switch. As much as I wanted it to be something, the collaborative process has demanded that I let things go and sometimes sit in the back seat as my collaborators take the lead. I'm consenting to a 'not knowing', and to others taking the lead."
Audience responses are crucial at this first stage of their evocative new work. Forest and her collaborators look forward to hearing your feedback and thoughts following their public sharing, which will assist them to gauge and evaluate the various elements critical to their work's next stage of development.